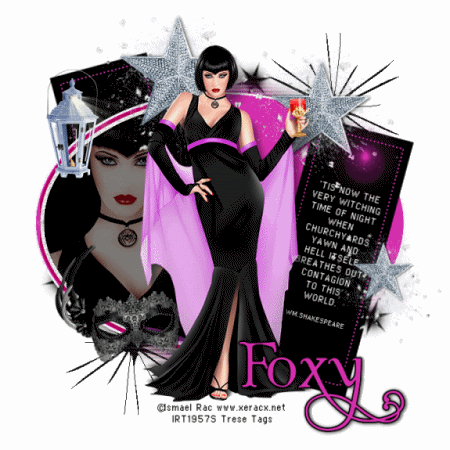 The Witching Hour
The Witching Hour is the time when supernatural creatures such as witches, demons and ghosts are thought to be at their most powerful, and black magic at its most effective. The hour is typically midnight. The William Shakespeare quote in this tag is referring to this time of night. The hour before midnight, 11pm, is used for the practice of witchcraft. I DO NOT support witchcraft or any of the black arts. I just enjoy halloween and do a lot of research on the subject. For more information on the subject, you can google it...this is what I do.
This tutorial was written by me on October 22nd, 2010. Any resemblance to any other tutorial is pure coincidence. Please DO NOT claim this tutorial as your own or post it to any other blog or website without permission from me. It was written for PSP 9, but should be compatible with any version of PSP. I wrote it assuming that you have a working knowledge of PSP and it's components.
What you will need to accomplish this tutorial: This beautiful scrapkit by
Foxy's Designz
called
Midnight Dreams
that you can purchase
HERE
at her store
Digi Fox's Studio
. Thank you Foxy for the use of this kit. Template by
Creative Misfits Creations
, Aqua-Abstract #3, that you can find
HERE
. Thank you ladies for your talents and y our generosity. Several plugins: Xero, Eye Candy 5-Impact, Eye Candy 4000 (optional) and dsb flux. Tube of choice, I used the amazing artwork of
Ismael Rac
that can be purchased at his store
HERE
. Please do not use his tubes without a license. You will need some star brushes. Font of choice, I used
Albemerle Swash
which can be downloaded
HERE
. For the quote I used a pixel font. Any pixel font will do. You can find some
HERE
.
Let's get started.
With PSP open, open your template, tube (open the close-up tube as well) and the elements you will use from the scrapkit. You can use my image as a reference for the elements I used. Duplicate your template (Ctrl + D) and close the original. Delete the credits and the wordart layers. Increase canvas size to 700 by 700. (Image/Canvas size) Be sure the middle arrow is selected. Flood fill the bg (Raster 1) layer with white.
Select the black half circle layer in your layer palette, then get your magic wand and click on the black half circle to select it. Copy and paste the close-up tube as a new layer and position her face into the circle. Go to Selections/Invert and then hit delete on your keyboard. Now go up to Effects/Plugins/Xero/Radiance and use these settings:
Strangeness 112
Charm 137
Truth 128
Beauty 255
Decrease this tube layer by 50%.
What I done to get the quote on the rectangle straight is copy this layer and paste it as a new image. I then used my Raster Deform tool to straighten the rectangle vertically. Then I used my pixel font and typed my quote being sure to align it into the rectangle. Then convert the text to a raster layer. I then copied and pasted the text into my working image and used my raster deform tool to position it into the rectangle in my image.
Now you should paste your elements from your kit into your working image. Give them a slight drop shadow once positioned and sized. I normally use my Raster deform tool for resizing so I can get the exact size I want. Once you have all elements in place, merge the three star layers together and then duplicate this layer twice for a total of three layers. With the bottom or top star layer selected (where you start is your choice), go to Effects/Plugins/dsb flux/Bright Noise and use these settings:
Intensity 40
Direction-check Mix
(on the remaining two layers, simply increase the intensity by 10 for each layer)
NOTE: To make the lantern appear to be hanging off of the left rectangle, duplicate this tube layer and place one underneath the left rectangle layer. On the lantern on the top use your eraser tool to erase parts of the handle to make it appear to be hanging.
Copy and paste your tube into your working image. Go to Effects/Plugins/Eye Candy 5.0/Perspective Shadow and use these settings:
Settings tab
:
Leave default settings
Basic tab
:
Check Perspective Shadow
Center offset direction 309
Center offset distance 10.40
Overall opacity 37
Overall Blur 9.41
Perspective Blur 12.10
Fade out 23
Shadow color is black
Check Mask Selection
In your layer palette add a Raster layer above the bg layer (Raster 1). You can apply your star brushes on this layer.
Add your name. For the optional use of Eye Candy 4000 you can add the black halo around your name. Go to Effects/Plugins/Eye Candy 4000/Gradient Glow and use these settings:
Basic tab
:
Glow Width 3.0
Soft Corners 25
Overall Opacity 100
Check Draw outside selection
Color Tab
:
Black Halo
Opacity 100
Add a slight drop shadow to your name.
Add your copyright information and we are done. I hope you enjoyed my tutorial and hopefully learned something from it. I welcome any questions for feedback. You can find me on Facebook, just click on my Facebook badge...or you can email me at tresetags@gmail.com
Thank you.