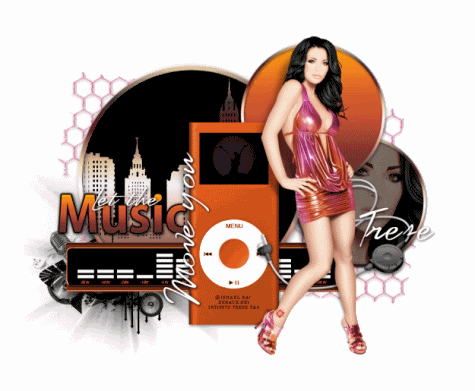 This tutorial was written by me on March 4, 2012. Any resemblance to any other tag or tutorial is purely coincidental. Please do not post any of my tutorials on any blog, forum or website without permission from me. My email is tresetags@gmail.com or you can click my Facebook badge and find me on Facebook. I wrote it with the assumption that you have a working knowledge of PSP and it's components. It was written for PSP 9, but should be compatible with most versions.
What you will need to accomplish this tutorial:
Rebellious Scraps' CU Pink Music...which you can purchase at Sunshine Daze Shop HERE.
Ismael Rac tube which can be purchased on his site HERE. Please support the arts and do not use his tubes without a license.
Brushes and supplies I've included HERE.
Fonts: One pay font AL Professor and Windows font Kozuka Gothic.
Plugin: Xero, Eye Candy 4000, Eye Candy 5/Impact
I recommend that you name your layers for this tutorial.
It's always a good idea to read through any tutorial you are going to attempt so you know what to expect and how to get organized.
You can also use your own color choices since Rac's tubes come with multiple layers or if you choose to use a different tube.
Install your brushes into PSP. Open the .jpeg into PSP. Go to File/Export/Custom Brush...name your brush and click ok.
Let us begin....
We are going to work with quite a large image to begin with so as to fit our animations properly, but we will resize in the end. Having said that, open a 1000 x 1000 new white image. Copy and paste your fencing element in supplies included. Duplicate this layer and separate them, one on each side of your working canvas.
Next, using your ellipse tool, draw a large circle...use my image as a reference for size and placement. Select this circle with your magic wand. In your color pallet select a gradient which matches your color choices and apply the city brush to this circle. Using the same gradient draw you a frame around your circle and add slight drop shadow. Draw your two other circles and apply your frames. For the colored circle, I used a different gradient, but one with the same color palette.
Next, copy and paste your tubes into your working image. Again, use my image as a reference for size and placement. You can use your Raster Deform tool to resize your tubes and elements to exact desired size. To change the color of your music player go to Adjust/Hue and Saturation/Colorize and pick a color from your color choices by sliding the bars underneath Hue and Saturation.
Now you will open the two animations in PSP. We are opening them into PSP strictly for placement purposes. Use my image as a reference for placement. You will place the dancing animation underneath the music player screen.
If you wish to have more depth in your image, select your music player tube and go to Effects/Plugins/Eye Candy 5/Impact/Perspective Shadow. This plugin, if you're not familiar with it, you will have to practice. You can move the nodes around by holding down either the Shift button or the Ctrl button on your keyboard. Both do slightly different things on moving these nodes. Be sure to pay close mind to each area of your element and tube as to shadow placement. You can view all areas of what you are applying a shadow to by moving the red square at the top of the window of this plugin. You want to make sure you don't make your shadow to dark for a lighter image...it depends on your preference and what you're working on, but you want your shadows to look natural.
Now, go to your layer pallet and click on your background layer. Add a new Raster layer and apply your music brush using my image as a reference for placement, or place it where you choose.
Now let's talk about the coloring of the animations. It's quite simple to change the coloring, but involves a little bit of work. Here are the steps: Open your animation in Animation Shop. Go up to Edit/Select All/Edit/Copy. Go back over to PSP. While holding down Shift + Ctrl, hit V. You will notice you now have an image which has 24 frames all named Frame 1. In your layer palette select the top layer and go up to Adjust/Hue and Saturation/Colorize. Select your color. Hide this layer, go down to the second layer in your layer palette and do the same to colorize it. Repeat this process for all 24 frames. Taking care to be sure you are on the correct layer each time you colorize. Once at the bottom layer keep it unhidden and hit Ctrl + Shift + C to copy merged. Go back to Animation Shop and hit Ctrl + V to paste new animation. Back to PSP, unhide the layer above the bottom layer and hit Ctrl+Shift+C to copy merged...back to Animation Shop. While holding down Ctrl + Shift, hit L to paste after current frame. Back to PSP and Repeat this process all the way to the top of your layer palette. Keep the animation open in Animation Shop. It's a good idea to make you several copies of this animation in case you mess up with your placement of your final working image. Do this as you did above, select all the frames and copy. Paste two or three of these animations right there in Animation Shop and minimize them.
Add your wordart. For the Music wordart, I used the same gradient as I did for my colored circle. Go to Effects/Plugins/Eye Candy 4000/Gradient Glow and apply the Black Halo. Play with your settings to get desired effect. Only make sure the opacities on both tabs are all the way to 100%. The words Let the Music should be on a layer above the large black circle's frame and the words Move You should be on a layer above the music player.
Add your copyright and your name taking care that your copyright is correct and legible. Put your copyright information of a layer above the music player.
To simplify things we are going to merge some layers. In your layer palette hide your name and all the layers down the the music player, hide it as well. Then go back to your palette and right click on one of the open layers and merge visible. Hide this merged layer and unhide your remaining layers except your name in case you want to make tags for others. Again, right click on your layer palette on an open layer and merge visible. You should now have three layers.
Now to animate...Hide the two top layers and copy merged (Shift + Ctrl + C). Go over to Animation Shop and hit Ctrl + V. You are going to have what appears to be a huge image...don't panic. We did start out with a 1000 x 1000 image. You can make this workable by simply clicking on it and roll your mouse to get a desired working size. Pull in the sides of this image to show only one frame after we duplicate it if you need to. Speaking of duplicating. Since each of our animations have 24 frames, we are going to need our working image to have 24 frames as well. Go to the top of your working image and click on it. Go to Duplicate Selected. Repeat this until you have 24 frames. You can tell this by looking at the bottom right hand corner of Animation Shop.
Once you have 24 frames, slide the bottom bar of your image all the way to the left. Go up to Edit/Select All. Open one of your animations from minimize. Be sure the bottom slide bar is all the way to the left. Edit/Select All. Click on the very first frame of your animations and hold down your left mouse button...DO NOT LET GO. Drag your animation over to your working image and carefully place it on top of where you've got a reference for placement in the

first frame of your working image. In other words, you placed a layer of both of your animations into your working image...drag your animation and carefully place it on top of it taking care to perfectly match your corners, etc. Check your progress by going up to View/ Animation. Once you have your first animation placed, repeat the process for the second. Placing the second animation into your working image in it's proper place...again, check your progress to be sure you have your animations right...View/Animation. Once you're satisfied that your animations are correct, leave this working animation image open in Animation Shop.
Go back to PSP. Hide the bottom layer and open the two top layers. Copy Merged (Shift + Ctrl + C). Back to Animation Shop. Now we know, anything we put into our working animation image must have 24 layers. So as you done before, duplicate this new animation you just brought into Animation Shop to get 24 layers. (AGAIN MAY BE A GOOD IDEA TO MAKE YOU SEVERAL COPIES) Select all the layers and making sure you have the bottom slide bar all the way to the left on both this new animation and the one we previously worked on. Click on and hold your left mouse button down and drag this new animation into our other working animation being sure we are dragging the first frame into the first frame of the other. DO NOT LET GO until you have things lined up.
Resize to desired size and save as a gif. Leave the settings on default for saving your gif and you are done.
I hope you enjoyed my tutorial and have taken something with you to hone your skills and to make PSP more enjoyable for you. Please, if you have any questions, do not hesitate to contact me. I would appreciate knowing of any broken links and I would love to see your results and hear your feedback.
Love and Blessing,
Trese