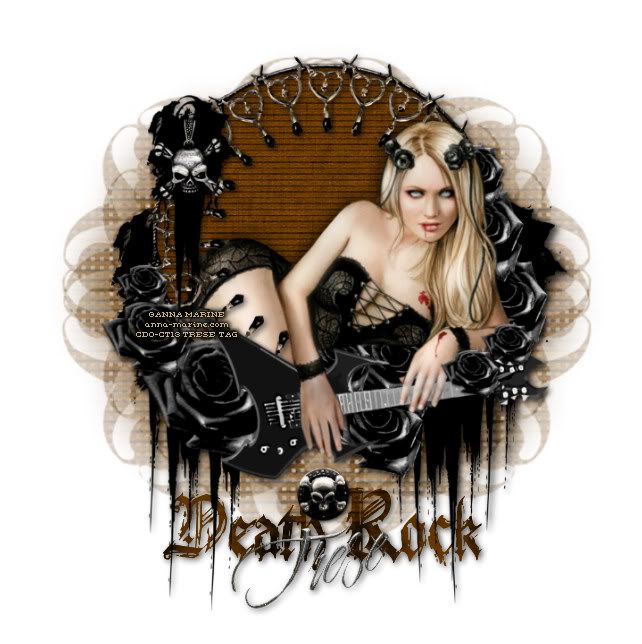 This tutorial was written by me on April 13th, 2012. Any resemblance to any other tutorial or tag is unintentional and is pure coincidence. Please do not claim my work as your own and do not post to any other website, blog or forum without permission from me. It is written with the assumption that you have a working knowledge of PSP and its components. I wrote it for PSP 9, but it should be compatible with most versions.
I recommend that you read through this or any tutorial you are attempting before starting it so you will know what to expect and how to get organized.
As with any of my tutorials when a plugin is required, change only the settings I recommend and leave the others on the default settings.
What you will need to accomplish this tutorial is the really cool scrap kit by Rebel Designz over at Creative Design Outlet
HERE
, the fab art of Anna Marine which can be purchased at CDO as well
HERE
(please support the arts and do not use her tubes without a license.), awesome mask by Weescotclass Creations
HERE
along with all of her other masks, a grungy type brush...find some
HERE
, Alien Skin Eye Candy 5/Impact and Fonts Cherish
HERE
and Bonbon Bleu
HERE
, both are free to use.
Ready? Let's get started....
First put your mask in your PSP mask folder and install your brush/brushes. Start a new white image 700 x 700, we'll resize later. Open your elements and tube into PSP. You can use my image as a reference for what to use.
Now, copy and paste the frame into your new image which I will refer to as your 'working' image from this point. Add a drop shadow. For a natural look on your images a drop shadow should look natural...in other words, think about what a shadow would look like in nature. If your image is on the darker side, your drop shadow should be darker, thus a lighter palette should have a lighter drop shadow. Here our image is dark, so shadowing should be darker...opacity about 50% and I used 14 blur.
Copy and paste your paper beneath your frame layer. Using your eraser brush erase the parts of the paper that is outside your frame. Paste the same paper beneath this paper layer and apply your WSL_Mask 17. You can always use your Raster Deform tool to resize any of your elements for precise sizing and it prevents distortion as long as you don't go too large or way too small and you pull your sides evenly.
Next above your mask layer copy and paste ele23. Put it to either side of your frame then duplicate both of these elements twice and scatter them close together...Use my image as a reference for placement. Then add your drop shadow to each.
Now beneath your frame copy and paste your tube....again, use your Raster Deform tool for precise sizing into your frame with some of it popping outside of it, especially her head and arms. Once you have her placed, duplicate your tube and drag that layer above your frame layer. Carefully erase, with your eraser tool, parts of her that will allow your frame to show through. You want to leave her arms and head appearing to be coming out of the frame. Now go to Effects/Plugins/Alien Skin Eye Candy 5/Impact/Perspective Shadow. This is a tricky plugin and takes a lot of practice. Just remember to pay special attention to all of the areas of whatever you are shadowing. You can view your entire element or tube by dragging the red square that you will see at the top of the window of this plugin. You can move your nodes around by clicking on them and holding down your left mouse button. To move one node at a time hold down your Ctrl key. Remember as I said before, make your shadow look natural. For our purposes here the shadow should be somewhat dark so we can make her pop out of the frame. Also, use the default shadow for this...move your nodes around as I described and you should be able to get your shadowing right. Remember Edit/Undo is our friend.
Now for the guitar element, paste it beneath your tube layer, duplicate it and drag this layer above your tube layer. Erase the areas of the guitar where her hands should be placed. Add drop shadow.
Copy and paste the black roses above your frame layer. Duplicate several times, move them around your frame and using your Raster Deform tool make them several sizes. Be sure to give them drop shadows.
Add the rest of your elements, resizing in the same manner and giving each drop shadows. Use my image as a reference for placement.
Now, we're going to resize at this point. Hide your background layer and merge all the visible layers. Unhide your background layer and with your Raster Deform tool drag the edges of your merged layer to resize to your desired size. My image here is 650 x 650 with the negative space. Speaking of negative space. For my taste I feel a tag should have ample negative space (ie. the white areas around your tag) as to frame it. Unless the design calls for it, none of your tag should be out of the edges of your working image and should have enough negative space as to frame it. I feel it balances the design.
Now for the word art. Using the font Bonbon Bleu type the words 'Death Rock' size 72 with antialias on sharp. Color is the light brown in the paper. Now go to Selections/Float/Selections/Defloat. Using a grungy type brush set on black for color paint areas of your wordart so as to leave some of the light brown showing through. Go back up to Selections/Select none. Add your drop shadow.
For your name use the font Cherish. With your Raster Deform tool tilt your name slightly to the left. Go to Effects/Plugins/AlienSkin Eye Candy 5/Chrome and use these settings:
In your Basic tab...
Bevel Width 46.25
Bevel Height 70
Softness 0
Round Corners 0
Check inside selection
Leave the rest of the settings on default. Add your drop shadow.
Add your copyright taking care that it is legible and legal. A pixel or copy font is perfect for copyright to make it look professional, neat and easy to read. You can google and find tons of them. Most of these are best at size 6 and antialias should be on off. Both of these settings prevent the fonts from pixelating. For the copyright emblem hold down the ALT key and type the number 0169. And you are done.
Thank you for trying my tutorial, I hope you enjoyed it and learned something to help hone your PSP skills. I would appreciate any feedback and would like to know about issues with broken links.
Blessings, Trese