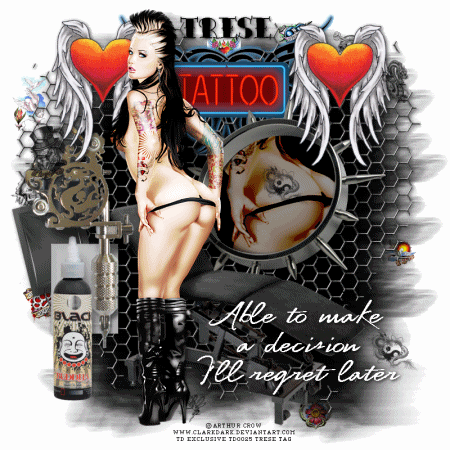 It seems like everyone is getting tattoos these days or is planning on getting one. If you are considering a tattoo for yourself, you should do your research and think hard before accepting the needle. DO NOT get a tattoo just because it's the "in" thing to do...tattoos are for life. Please, Think before you ink!
This tutorial was written by me on April 24, 2011. Any resemblance to any other tutorial is pure coincidence. Please DO NOT claim this tutorial as your own or post it to any other blog or website without prior permission from me. It was written in PSP 9, but should be compatible with any other version. It was written with the assumption that you have a working knowledge of PSP and it's components.
What you will need to accomplish this tutorial besides Paint Shop Pro, of course, is this very cool scrapkit by Purple called Tattoos & Piercings, which you can find on her blog
HERE
. Thanks girl for the use of this amazing kit. You're going to need tube of choice. I used an exclusive we received for
Tagger's Den
from the amazing Arthur Crowe. You can purchase his tubes
HERE
at PSP Tubes Emporium. Please DO NOT use his tubes without a license. Thank you Arthur for this amazing exclusive for the Den. You're going to need the plugins Eye Candy 4000 and Xero. The Mask I used is WSL_Mask 260, you can find her masks on her blog
HERE
. We thank you for your generosity maam. Font I used for the wordart is AL Professor, it's a pay font, and for my name I used Tattoo Lettering Black. You can find a ton of free ones
HERE
.
Okay, let's get started, you ready?
Place your mask in your PSP mask folder. Install your plugins. Open PSP and gather your tubes and elements to use. You can refer to my tag as a reference for which elements you will need. Minimize your tube and elements.
Open a new white image 700 x 700. We will resize at the end of this tutorial. Add a new layer and flood fill with black. Resize this layer by 90%. (short cut for resizing: Hit Shift and S at the same time and your resize window will come up.) Apply the mask and group the mask layers.
NOTE: You will save yourself a lot of grief if you will get in the habit of renaming all your layers.
Place your elements and tube into your canvas. Again, you can use my tag as a reference for placement. And let me introduce you to my best friend the Raster Deform Tool which I use to resize most of the time. I find that you get less distortion with it. You will need to make a copy of your tube and place it under the frame. Use the raster deform tool to blow up your tube and center her bottom into the frame. In the layer pallette, select the frame layer. With the magic wand, click inside the frame. Go to Selection, Modify, Expand and expand by 8. Go back to the blown up tube layer and select it. Go back up to Selections, Invert and hit delete. On this same layer you will now go to Effects, Xero, Radiance and use these settings:
Strangeness = 30
Charm = 67
Truth = 128
Beauty = 255
Now, just below this layer you will need to add a black background using the Elipse Tool. Convert to Raster Layer. Take the Opacity of the layer down to 58 and set Blend Mode to Hard Light.
Copy and paste your tube into the canvas and use the same settings in Xero used previously for her booty...lol. Add slight drop shadows to all your elements. Add your wordart and your name and DON'T FORGET your copyright info.
Now we're ready to do the fun part...the animations.
Be sure you have placed the neon tattoo sign where you want it to stay! In your layer palette, duplicate this layer three times for a total of four layers. Number the layers. Leave layer number 1 as is, select layer number 2 and then go to Effects, Eye Candy 4000, Corona and use these settings:
Glow Width = 10
Flare Size = 15
Waver = 25
Blur = 0
Overall Opacity = 100
Color = #257ebf
check Draw Outside Selection.
For the two remaining layers you will simply increase the Glow Width by 5 and hit Random Seed once.
Open Animation Shop. Go back to PSP. Be sure that the bottom three of the neon sign layers are closed. Hit Control+Shift+C to copy merged. Go back to Animation Shop and hit Control+V to paste a new animation. Back to PSP. Close the number 1 neon sign layer and open the number 2 neon sign layer. Hit Control+Shift+C to copy merged and then go back to Animation Shop. This time you will hit Control+Shift+L to paste after current frame. Do this for the remaining two neon sign layers.
In animation shop you will resize your image to fit your needs and save as a .gif. And then we are done.
I hope you enjoyed my tutorial and hopefully gained something you can use in your creations. I appreciate any feedback and knowledge of broken links. You can find me at Tagger's Den or Facebook. Thank You
Trese